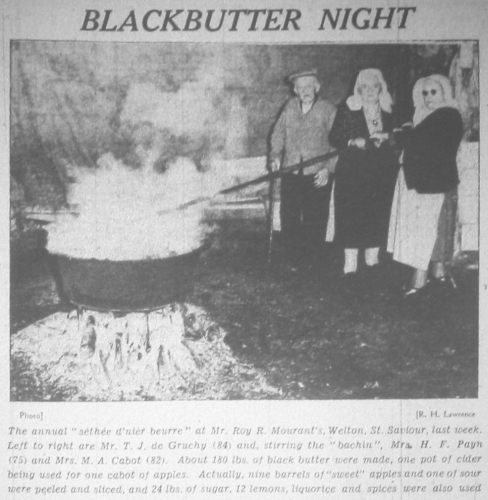 The official premier of the documentary "Lé Nièr Beurre: Un R'tûnfîn" / "Black Butter: Tasting the Past", directed by Daniela Rusowsky and Stephan M. Funk, will take place on Thursday 10th of June at the Jersey Museum

Last year in late October the documentary filmmaker and visual anthropologist Daniela Rusowsky, Director of Funk Productions, worked with the National Trust for Jersey, to film for the first time in professional format the Jersey tradition of Black Butter making. The complete process, including the peeling of the apples, the stirring of the mixture in the bachîn throughout the night, the camaraderie and the jarring up was recorded to capture the essence of this ancient recipe and reveal the spirit of one on Jersey's best kept secrets: its people.

But filming the event was only the beginning. With the support of Jersey Archive Daniela discovered some very precious and rare footage about black butter making and rural life in Jersey, which complements the film in a journey from the past that looks towards the future.

This filming was edited as a 48 minutes documentary and the soundtrack includes original recordings from traditional Channel Islands music courtesy of SocSercq Museum and Archive and L'Office du Jèrriais.