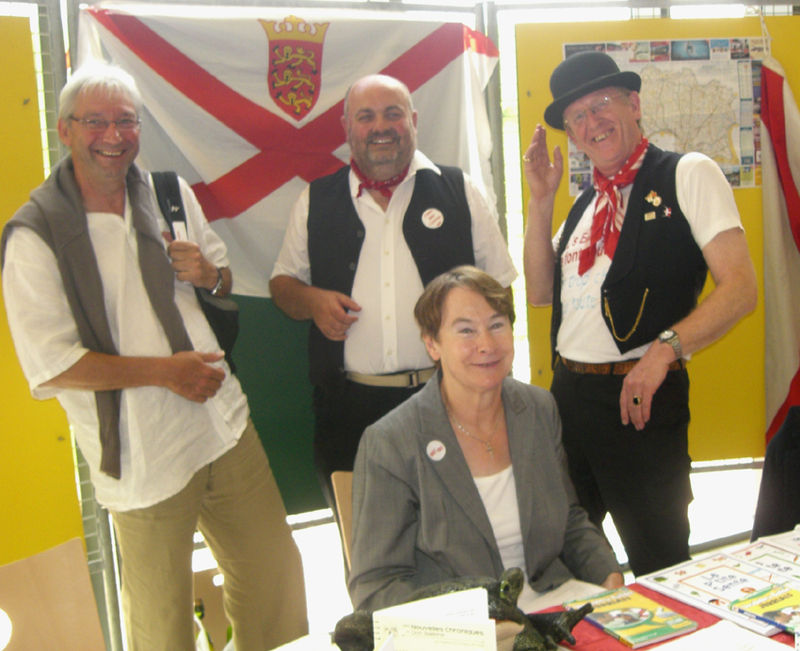 L'anmîn Mariel d'la Picardie a bliodgi entouor la Fête Nouormande dé ch't' année. Ch'fut un pliaîsi d'rencontrer nos anmîns Picards à la Fête au mais d'Juîn – et j'espéthons pouver l's atchilyi à la Fête en Jèrri l'année tchi veint. Pouor les cheins tchi n'connaîssent pon la langue Picarde, ché s'sa întèrrêssant d'compather l'Picard et l'Jèrriais. Et la preuve du podîn ch'est d'la gouôter: ou pouvez tréjous siéthe lé bliogue dé chMahon-vert pouor liéthe du Picard.
At this year's Fête Nouormande, we met up with our contacts from Picardy – and good old Mariel has blogged the encounter. It's interesting to read a Picard speaker's impressions of the Fête, and hopefully at next year's Fête in Jersey, people will have a chance to experience some Picard and be able to compare it with our own Jèrriais. You can also follow the chMahon-vert blog for regular doses of Picard like this:

Ch'est por cho qu'os étoèmes lo… por foère con.noèchinche aveuc nous coepans d'Jersey, chl'île anglo-normande d'où qu'ch'est qu'o parle anglais mais d'où qué ch'dialecte, éch Jerriais, bin ch'est pratiqu'mint du picard… conme à Guernesey.

Bon os nous avons bien intindus pi ch'est por cho qu'l'énnée prochain.ne, bin os irons passier tchèques jors à Jersey vu qué l'grande fête nouormande a s'fro là-bos !