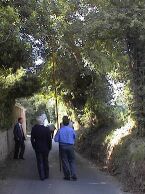 D'main ché s'sa la Vîsite du Brancage à Saint Hélyi. Né v'chîn des textes sus l'brancage.
It's the Branchage inspection tomorrow in Saint Helier. Perhaps these extracts and links might inspire you to get trimming (if you haven't already been out with the shears…)
Les Visites du Branchage
Les Chroniques de Jersey 7/7/1956
"Chais Visites du Branchage," ou s'fit, "ayant liut plusieurs annonces au sujét, tchèsqu'y valent au jour d'aniet? P't'être bein dans les viers temps, quand nos routes 'taient hardi êtraites, et tchi fallait laissi du run pour des hérnais à l'ê'clon, mais d'nos jours n'y'a rain d'chonna. N'y' qu'les fichus moteurs, et ocquo pièthes chais charabancs, et quant à yeux, tant mûs s'y n'avaient pas d'run à pâssé. A ma veue, et j' n's'y pas la seule de ch't'opinion-là, ch'n'est qu'des éxtchûses pour une ribote."
Ach'teu, Moussieu, ou vêrrez bein tch'il 'tait temps d'entré une remontrance, et don j'm'y mint.
"Tu t'appèle une bouonne Saint-Ouennaise, Merrienne," j'l'y dit sévèthement, "et tu peux pâslé d'même. Tu dev'thais avé grand' honte. crais-tu véthitablyement que l'Connêtablye, le Recteur et toute la Municipalité, ont, à qu'menchi, besoin d'une éxtchûse pour avé une bouonne bordée ensemble!…"

La visite du branchage dans les paraisses est finie pouor chutte année mais les siens d'la Verte Rue, en la paraisse de St.-Ou, s'en rappelleront pouor tchicque temps quassiment touos futes mins à l'amende.

Le jeune John des Chinq Verges en écappi viyant que l'vent pouvait avèr soufflié dans la braique de son pré la gerbe de jonc qui s'y trouvait. George du bas de l'Etacq avait coupé ses fossés mais avait laissi l'tout dans la route.

Pour aver laissi pousser la sercle sus l'bannelais le long de son clios, l'p'tit Philip du Bas de l'Etacq en fut pour 36 sous mais Henri d'l'hotel trouve que chunna est honteux car chu bannelais appartiens au p'tit Frainque de Millais, qu'est payi deux chelins pour l'amonceler

Jim des Chatgniers en rescapi avec sa pliante d'mauve sus la muthaille mais Emma d'la Carrière est fort marrie.

Maria du cottage a ieut à payi trais chelins et j'ai oui dithe qu'oulle s'en va ercliamer chu montant à Jack d'la rue à l'ieaue, viyant qui prins de d'dans san gardin une rose contre sa volonté.

Quand nos gens ieutes fini lus touornée, l'boss d'la paraisse lus dit qu'il en avait grand r'gret mais y n'avait pus trouver d'hotel iou aver l'dinèth usuel. N'v'la qui n'arrangi pon l'Jack de la Cache et l'Jack d'la rue à l'iau et oprès aver d'viser par téléphone avec Forgeard, d'la Grève, une p'tite djinque s'n'alli passer la séthée dans iun des p'tits appartements de l'hotel et lus graite du mus qui purent mais couomme y aver encouore assez d'run une game de nap mins touos nos gens d'buanne humeuthe.

En paslant d'visite d'branchage, j'voudrais bain saver tchès qu'en s'rait d'v'nu si les siens mins à l'amende dans la paraisse iou que chutte visite fut erminse pour laissi iun d's'inspecteurs en paix et en bonheur pendant sa lune de miel, ver tchès qui s'rait advint si nous avait erfusé d'payi l's'amendes?
Tchi drôle dé pathole! (What an odd word!) People say the Jèrriais word brancage, but write the French word branchage, and use it when speaking in English.

In any case, it's an important custom which keeps les c'mîns (lanes, or roads in general), les rues (roads or streets) and les grandes routes (main roads) clear so there's enough laîze (width) for les boulants (vehicles) and les piêtons (pedestrians).

Lé brancage logically enough comes from la branque (the branch). Other overhanging vèrduthe (greenery) may be les fielles (leaves), les brantchettes (twigs or small branches) or les bouais (trees). Tch'est qu'i' faut faithe? (what do you have to do?) I' faut trînmer les bantchies (one must trim the hedges). I' faut coper les branques étout (one must cut the branches too) and you might monter amont eune êtchelle (climb up a ladder).