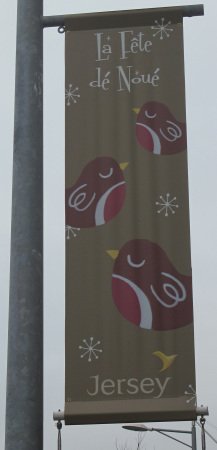 Lé neunmétho du mais d'Dézembre du magâsîn d'la Pâraisse dé Saint Hélyi "The Town Crier" a eune articl'ye en Jèrriais "Les pithots et les picots" par Geraint Jennings entouor Noué achteu et au temps pâssé.
The December 2010 issue of the Saint Helier Parish magazine has an article in Jèrriais about Christmas now and time past.
pithot = goose
picot = turkey
Et j'avons des rouoges-gorges sus chutte banniéthe-chîn d'la Fête dé Noué!
And this Fête dé Noué banner has got robins on!