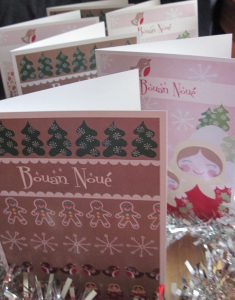 J'avons env'yé des cartes dé Noué (auve les souhaits en Jèrriais, bein seu) et j'avons r'chu des cartes étout. J'admithons les cartes dé Noué du Tourisme dé Jèrri grées pouor la Fête dé Noué, auve les designs faits sèrvi sus les affiches et banniéthes.
We've sent out our Christmas cards (with the greeting in Jèrriais, naturally) and we've received some cards too. We've been admiring Jersey Tourism's cards produced with the Fête dé Noué designs as seen on this year's posters and banners.
A collection of old Christmas cards in Jèrriais can be found here: Les Cartes dé Noué.