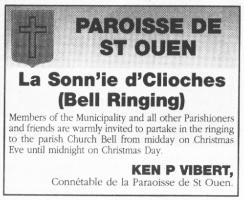 La Gâzette du Sé rapporte: "…repairs to the church belfry are not yet finished and so the traditional 24 December bell ringing cannot go ahead as planned. For hundreds of years, the bells of St Ouen, St Mary and St Peter were rung continuously from noon on Christmas Eve until midnight on Christmas Day to mark the anniversary of the end of seven years of French occupation in 1468."
Y'a du disteurbé dans la couôteunme d'la Sonn'nie d'Clioches à Noué ch't' année viyant qu'la clioche dé Saint Mathie est acouo à r'graie. La Sonn'nie d'Clioches étha lieu coumme dé couôteunme à Saint Ouën et Saint Pièrre, mais nou s'en va sonner eune clioche à main à Saint Mathie à seule fîn dé souôt'nîn, tout coumme sŷmboliquement, la tradition.
Par eune vielle couôteunme dé pus d'chin chents ans, nou sonne les clioches d'églyise dans les Pâraîsses dé St. Ouën, St. Pièrre et Ste. Mathie d'pis méjeu la Sèrvelle jusqu'â mînniet l'jour dé Noué. Aut'fais chutte couôteunme sé gardait étout à St. Jean, St. Brélade et St. Louothains.
Et i' y'avait la sonn'nie des clioches des églyises parouaîssiales dé St Ouën, Ste. Mathie et St Pièrre dépis méjeu la sèrvelle jusqu'à mînniet l'jour dé Noué, et man p'pèe et m's oncl'yes Ouinn'teur et Dâl'pheusse allaient prendre lus tou à sonner la cheinne dé St Ouën.
Quand les clioches sonn'thont la sèrvelle dé Noué, sachiz tch'i' procliâment la miyeu nouvelle dé tout temps et èrchévez pouor vos-mêmes lé présent qué Dgieu vos offre. Ch'est un présent tch'a 'té acaté à grand' prix et sa valeu agrandit à m'suthe qué nou dêcouvre qué ch'est Jésû-Christ uniquement tchi nos donne dé l'espéthancé pouor l'av'nin et pouor l'êtèrnité.
Sonne les clioches, les p'tites clioches, sonne les clioches d'hivé,
Ah tchi fanne dé nos prom'ner ichîn dans la né –
Sonne les clioches, les p'tites clioches, sonne les clioches d'hivé,
Ah tchi fanne dé nos prom'ner ichîn dans la né
Nou la sonni pendant sept heuze,
De septante-deux a septante-trais,
Et nou vis pue d'un Saint-Pierrais,
Quand nou ne l'entend pue, qui plieuze,
Mais y finirent par poussé
Trais houras pour lue Député!!!
Tous s'sont les beinv'nus et i' faut espéther qué l'Églyise s'sa patchie auve nos pârouaîssiens, jannes et anciens, et lus anmîns. Chu jour-là et lé lendemain i' y'étha étout l'opporteunité dé sonner la clioche, comme dé couôteunme sus dé telles occâsions.
Les Clioches de Ste Mathie écoute coumme ils appelles
Les jannes couples, les vrai couples qui veinne par sus ieaux
Et d'meme mon adoré quand cherront les rouoges fielles
Les clioches d'amour sonnant, sonnant pour té et mé.
Ouais la clioche qui sonne! – ou convie ovec zesle
Le peuple en chu saint jour
A joindre à ten Eglize, ov la troupe fidèle,
Les chants du Guieu d'amour!
Entends-tu la clioche de l'Eglyise ?
I' faut nos mathier anniet;
Ou bein, veurs-tu rester vielle fille
Toute ta vie à tan grand r'gret ?
Oh, nennin, nennin, nennin dja!
La Légende des Clioches d'Églyises en Mé
Et ch'est, qué lé naviguant tch'avait l'malheu d'ouï la sonn'nie d'clioches v'nant dé d'souos la mé, entre l'Hâvre d'St. Hélyi et Les Mintchiers, n'èrvèrrait dgéthe la tèrre – ­ch'est à dithe, n'èrattèrr'rait pon ni en Jèrri ni ailleurs. Quand des pouorres corps s'adonnaient à êt' n'yés dans ches parages-là, nou disait : "Il' ont ouï les clioches des églyises dé pâraisse".
A Noué toutes les clioches nou sonnait
Et à Pâques des fliottes nou mangeait,
Mardi Gras donnait des crêpes pour "lunch",
A la St. Jean ch'tait "milk-o-punch".
Et la vouaix d'ses clioches, restaurées à lus pliaiche dans l' cliochi, n'a pon changi n'tout. Nou la ouiat trais fais par jour annoncer l'Angélus à toute la contrée à l'entou. Ch'est l'appel à la priéthe, et ch'est eune mûsique tch'est bein pus belle qué l' son du "Klaxon" des motos et du tîntamarre dé tambours dgitâres est mandolinnes qué les jannes appellent d'la mûsique dé nouos jours.
Mil neu chent treis quémenche achteu;
Et les clioches sonnent de si bouan tcheu!
Pour annoncer qu'une autre année
Remplièche la cheinne qui s'est passée
Si vite et pour nous…
Espéthons tous;
Faisons d'not mus,
Nou n'peut faithe pus.
Vocabulaithe:
clioche = bell
grélot = small round bell
drélîndgette = small bell
marté = clapper
battant = clapper
cliochi = belfry
dinne-dinne = ding-dong bell
Ditons:
I'n'est pon qu'faithe d'en sonner les clioches = no need to make a song and dance about it
Tchi n'entend qu'eune clioche n'entend qu'un son = you need to hear both sides of an argument
accorder coumme des clioches = get along like a house on fire
sonner la clioche = ring the bell (also, in slang, get one's leg over)