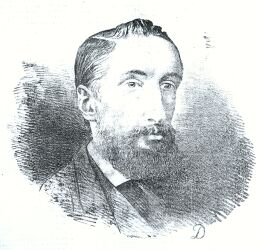 Ch'est l'mais d'Mar. Né v'chîn eune poésie par AALG:
It's the month of March. Here's a poem by AALG:
Pouôrre mais d'Mar, hélas!
Jé n'pensais vraînment pas
Qué tu'étais si rude;
Ch'est vrai, ch'n'est pon qu'nou t'vait
Souvent coumme un angné:
J'avons la cèrtitude
Dé ch'là dans touos ches vents
Qu'tu soûffl'ye d'temps en temps.

I' pathaît ch't' année-chîn,
Pâques a l'idée de v'nîn
Té faithe la bouonn' minne,
Et qué seul'ment pouor ch'là
I' dait y'arriver ma,
Peste, dgèrre, ou fanminne:
Ah! pour ch'tî-là qu'y crait,
Ch'est bein triste dé vrai.

Bouonnes gens, prépath'-ous
Pouor chu temps-là si doux,
S'ous y portez crianche;
Car pouor dé mé, j'm'y pèrds,
Et n'y prends autchun mèr,
En ch'là jé n'ai pon d'fianche.
J'vos di, jé n'y crai brîn,
Car ch'est du vrai niolîn.

La pèrvenche flieuthit,
La violette souôrit,
Coumme dans toute autre année,
La g'zette a êpanni,
Et l'ouaîsé fait san nid.
La vie n'est pon dounnée
Pour faithe d'même un d'vîn
Des choses dé l'av'nîn.

Sai lé beinv'nu, mais d'Mar,
Malgré touos tes êcarts,
Quouaique auve té Pâques veinge,
Jé né té craingnons pus,
Au Printemps tu'ouvras l'hus,
Qué ch'tî-là seul té crainge
Tchi peut craithe ès chorchièrs
Du vièr temps des bouôns vièrs.

Pour tch'est qu'nou-s'éthait peux
Quand là-haut dans les cieux,
I' y'en a Iun tchi vil'ye
Sus touos nous ichîn-bas,
Tchi compte touos nos pas,
Empêchant qu'iun drédil'ye.
Janmais I' n'envie rein
Qué chein tchi nos est bein.

A.A.L.G.