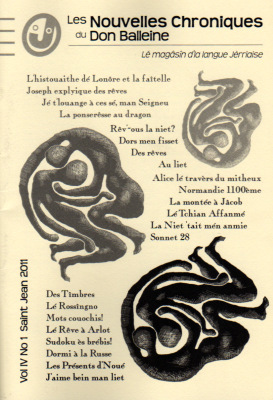 Lé nouvieau neunmétho des Nouvelles Chroniques du Don Balleine – lé v'chîn pouor vous et pouor la Saint Jean, bouonnes gens!
The Midsummer issue of Les Nouvelles Chroniques du Don Balleine, the quarterly Jèrriais magazine, has arrived to provide reading for the long Summer evenings.
Lé thème est duthant la niet, et y'a des rêves, des poésies, des chansons, des d'vinnâles, des textes et tout d'un si grand întéthêt qu'ou n'vos en endormithez pon.
Bed-time reading on the themes of dreams and sleep, with poems, songs, quizzes, and texts – with the occasional nightmare to keep you awake!

Buy your copy now, or take the opportunity to buy a subscription for the next four issues.
Next issue, at Michaelmas, is on the theme of elections (deadline for contributions: 1 September)