Bloggin fae the 'Burn a eune poésie en Scots d'Ulstèr entouor des bottes: "Tam's New Boots" – an oul poem aboot shoon fae Newtown. Né v'chîn des buts entouor les bottes en Jèrriais:
Bloggin fae the 'Burn has blogged a recently-unearthed verse advert in Ulster Scots for a Newtownards bootmaker. Here are some Jèrriais boot-related snippets: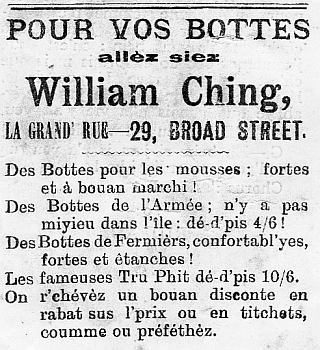 Vos fôt y des neuv'bottes a lachi sus lé d'vant;
Des slipeurs en lis-d'drap, ou des souliers d'èsfant;
Des "pumps" en marotchin, des "leggins" en niér tchui
Allez siez M. PICOT, endrét lé neu' marchi.

Si l'Bouan Dgieu vos permet de travaillyi la terre
Si ch'est qu'ous avez besoin de Chabots en bouais
De bottes de travas ou eune pathe de braie
Allez siez l'Vier Soudard y' sont a bouan marchi
Y'en a etout siez Krichefski
Les p'tites minsères dé la vie humaine
Et pis ov' chounna jé pouôrrais vos en èscrire
Entouôre les p'tits miôs dé grès ou dé gravi
Qu'entrent dans vos bottes, et vos empèchent dé marchi,
Mais qu'ou n'ôsez pas ôter dé peux qué la coumpagnie
Né valent votre cauche qu'est mal'ment perchie!
Mais n'ou a'tait seûre d'y mouôllyi
Les bottes et les braies.

Car y'ia des sourcins la l'long
Tchi deshallent de terrain,
Et, moussieu, jé vos en rèsponds,
L'iaue y rouôlle bel et bein,
Grossis par la plyie,
Ch'est un dou' dé moulin,
Et châque botte bein vernie
Y perd vite le biâtchin! –

Si lé malheur en restait là,
Si n'ou n'avait qué bottes sales,
Mais ou pâslez d'un autr' mâ
Dans vos Nouvelles Locales!
Et souvent quand j'ai taîth à llieau,
Et qu'mes bottes sont duthes comme dé s'os,
J'les r'faîs molles avec deus trëis miyios
D'graisse dé chandelle.
La courte robe nos fait vais ses finnes bottes vernies,
I n'y'ia pas à s'y tromper, ou va bein caûchie.

Ses caûches… ah, bon, ch'est-y pon tchurieux,
J'ai oubliyiè dê vos pâsler dé sa têtèe dé qu'veux:
Le Garçon qui s'brûli les dais
Des souyiés comme ès temps d'jadis
S'sait ch'qué voudrais l'î vée és pis.
Les saoûlers en quui, bain graissis,
Valaient mus qu'toutes les bottes fieuries.
La s'maine pâssèe, toutes lus bottes a r'grais;
A lus pratiq'rie dé marche y n'y'ià pon dé fin
Dépis lé Weighbridge jusqu'à Saint-Aûbin –
Y né pensent pus à lus travâs, ni à lus léçons,
Mais ont la tête embêtèe par des "compétitions";
Les Berrèxes dé la Grève dé Lé
Un aut' tchi n'pouvait l'on trouver ses bottes sé mînt dans l'rang auve ses cauches. Un aut' arrivit atout rein qu'eune botte, et un aut' arrivit atout eune teunique tch'allait deux fais l'tou d'li et qu' les manches 'taient si longues qué nou n'li viyait pon d'mains!
Y s'dêpêchit ben vite de prendre s'en déjeuné
De netti ses bouannes bottes et de breingi s'en chapé,
Y ramassi étout s'n habit tout né
Car y ne voulait pas étre en gris pour sé mathié.
Les Consolations d'une Vieille Fille
As tu bain blaquinai et fait r'lisé mes bottes
Car il tes comme si javais pilvaqui la cotte