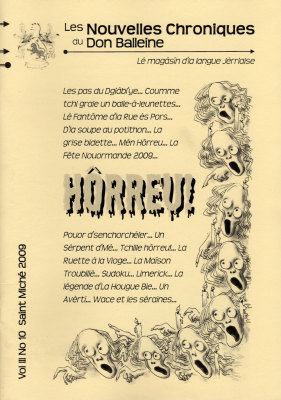 eune maîson troubliée = a haunted house
eune maîson vîsionnée= a haunted house
eune maîson hantée = a haunted house
Looking for ghost stories in Jèrriais? The Rev. Charles Picot made a bit of a speciality of spooky stories (all redolently written in his own way of spelling his Eastern dialect). We republished one of his ghost stories in Les Nouvelles Chroniques du Don Balleine in the Horror issue (Michaelmas 2009) – here's an extract:
La Maîson Troublliè
Unne sçaînne à faize frémi

Le vièr fôssi était, d'mândèz! à ch't'heuze-là à faize unne fôsse à la pièche où-est que l'fantôme du pouôre janne homme li-maîmme l'avait avèrti de la prépazé, quand la lantèrne tchi ll'avait prêtèe, et la cllè d'la maîson troubllèe, lî fûdrent ruèes l'travèr' de z-ouozèlles par tchiqu'un.

I' se r'dréchit dans la fôsse, et touannit sa lantèrne de touôs les bor', mais i' n'vit pèrsonne!

L'aoûtre chôse de r'mèrquablle tchi s'arrivit à exactement unne heuze oprès mînnièt, fut que l'aoûtre janne cor' tchi s'était couochi, ou' vos l'rapp'lèz, et tchi dormait bouân train, s'rêvilli en sursaoût, et vit s'n'anmin d'but oprès sân llièt.

"Oh! te v'là r'venu," s'lî dît-i', "bon souèr, don – tu n'as pas peu trouvé l'fôssi, j'crai bein."

La fidjuze châtchi la tête douochement treîs feîs, l'vit la main en haoût d'unne manniéze solannèlle, ergardît en bas, et dispazu p'tit à p'tit.