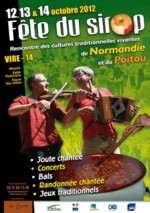 La Loure annonche la Fête du Sirop (du nièr beurre d'la Grand' Tèrre).
The mainland equivalent of black butter making.
La prochaine édition de la Fête du sirop, organisée tous les deux ans par la Loure, se déroulera du 12 au 14 octobre 2012 à Vire (14). Elle fera se rencontrer les musiques traditionnelles de Normandie et du Poitou, avec une délégation de l'UPCP-Métive (Union pour la culture populaire en Poitou-Charentes-Vendée)…

Le temps de tout un week-end, une bande d'irréductibles gaulois va concocter une potion magique détonante : le sirop ! Autour du chaudron fumant, chansons, musiques et danses vont rythmer cet étrange et envoûtant rituel… Une nouvelle fois, vous allez pouvoir goûter aux vertus de cette ancienne confiture à base de pomme qui retrouve, le temps de cette fête, une nouvelle jeunesse ! Le sirop occupe en effet une place centrale dans cette manifestation. Autour de lui se décline toute la programmation dédiée aux musiques traditionnelles d'ici et d'ailleurs mais également les jeux, les expositions et toutes les rencontres musicales informelles qui donnent cette couleur particulière à la fête.