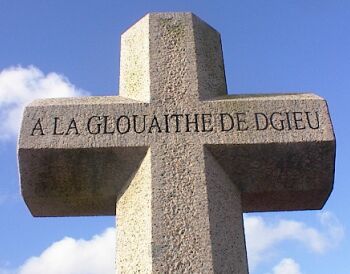 La Bouonne Nouvelle s'lon Luc, chapitre 23, vèrsets 33-46:
The Gospel according to Luke, chapter 23, verses 33-46:
Et quand i' vîndrent à l'endrait tch'avait nom Golgotha, nou l'cliouit à la crouaix, auve les malfaiteurs, l'iun à dêtre et l'aut' à s'nêtre.

Jésû dit, "Péthe, pardonne-les, viyant qu'i' n'savent pon chein qu'i' sont à faithe!" I' halîdrent ès noeuds pouor s'parti ses habits. Et né v'là l'monde à r'garder, et les sénateurs l'abafouaient coumme chennechîn, "I' 'tait un saûveux d'aut' monde; qu'i' faiche dé tchi pouor lî-même, s'il est l'Onguenné, lé chouaîsi du Bouôn Dgieu!" Et les soudards l'abafouaient, et vîndrent à lî et lî baîllîdrent du vîn amièrti et dîdrent, "S'tu'es l'Rouai des Juis, abanonne-té!"

Et nou-s'affichit au d'ssus d'li ches mots en êcritchieau: "Ch'tî-chîn est l'rouai des Juis."

Et iun des malfaiteurs clioué à sa crouaix l'êcliandrait améthement et lî dit, "N'es-tu pon l'Onguenné du Bouôn Dgieu? Dêpaûque-té et nous auve té étout!" Mais l'aut' lî fit chu protêt, "N'as-tu pon d'respé du Bouôn Dgieu? Ch'est en tchi tu'as 'té condâmné d'même! J'avons 'té, véthe, condâmnés s'lon la justice pouor chein qu'j'avons méthité, mais ch't houmme-chîn n'a rein fait d'ma." Et i' dit, "Jésû, garde-mé à l'esprit quand tu'aveindras dans tan rouoyaume."

Et i' lî dit, "Véthe, j'té l'dis: aniet tu s'sa d'compangnie auve mé au Paradis."

Achteu ch'tait d'vièrs méjeu, et toute la tèrre 'tait dans la nièrcheu jusqu'à dans les trais heuthes dé l'arlévée. Lé solé n'lithait d'aut', et l'ridgieau du Templ'ye fut trilyi en deux. Et Jésû fit un grand brai pouor dithe, "Péthe, dans tes mains j'èrquémande mén esprit!" Et chenna dit, i' fit san drein soupi.