En 1976 George d'La Forge êcrivit ch't' articl'ye entouor la pêque:
In 1976 George F. Le Feuvre wrote on the subject of fish and fishing:
La Pêque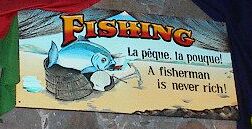 J'mé sis souvent d'mandé si v'la tchi vaut la peine dé continnuer à m'tracachi la tête pour êprouver à êcrithe chutte lettre en Jèrriais dans la gâzette s'maine auprès s'maine, et pis i' m'veint eune lettre dé hors-pays tchi m'encouothage.
J'veins d'en r'chéver ieune d'un Moussieu Armand Billard dé La Nouormandie m'dîsant qu'san fis d'giex-huit ans acatit un "Jersey Evening Post" quand i' vîndrent en Jèrri et tch'i' fûdrent agriabliément surprîns d'y trouver eune lettre en Jèrriais, et qué v'ls tchi lus donnit grand pliaîsi à la liéthe. Lé Sieur Billard ajouôte tch'il est iun des "rare mainteneurs de la tradition dialectale Normande de sa région". I' m'dit, étout, dans sa lettre, tch'il est un ancien pêtcheux d'la riviéthe dé Rouën, mais tch'i' n'y a pus d'pêtcheurs viyant tch'i' n'y a pus d'paîsson. Il est d'avis qu'ch'est à cause dé la "pollution" d'la riviéthe qué l'paîsson a dispathu: et i' dit: "Ne laissez pas polluer votre si jolie île. La mer m'y a paru plus claire que sur nos côtes!"
Lé Sieur Billard dit, étout, tch'il a d'pis longtemps ouï pâler d'L'Assembliée d'Jèrriais et tch'i' voudrait en dév'nîn membre pour pouver r'chéver l'Bulletîn d'Quart d'An. V'la tchi renforche mén opinnion qué l'Bulletîn et d'grand' valeu hors-pays, et tch'il est absolûment la pus grande raîson d'être dé L'Assembliée et qué l'couôtement d'l'aver împrînmé, tchi continnue à haûchi, est bein justifié.
Mais r'vénant à la tchestchion d' "pollution" d'nouos ieaux. Comme chu mot n'est pon dans nouot' dictionnaithe, i' n'est pon un mot Jèrriais, mais j'lé connaîssons si bein en Angliais et en Français qué j'savons bein qué v'la tchi veurt dithe sali ou empouaîsonner l'air, l'ieau et la mé. Comme jé n'sis qu'en Jèrri les tchiques mais d'êté, jé n'prétends pon êt' au couothant dé tout chein tchi s'pâsse dans l'mêtchi d'a pêque, mais jé n'vai pon tant d'pêtcheurs par les c'mîns comme i' y'en avait quand j'tais mousse.
(à siéthe)