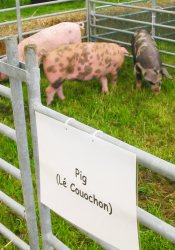 Ph'lip et Merrienne distchutîtent les couochons et l'Gouvèrneux en 1953 – n'y'avait pon d'liain entre les deux propos!
Ph'lip and Merrienne discussed pigs and the Lieutenant-Governor in 1953 – two different topics!
Comment vendre nos couochons?
Merrienne a une idée
Moussieu l'Editeu,
"Eh bein," s'fit la Merrienne, ayant liut la gâzette, "y'a d'bouonnes nouvelles pour les férmiers. Y pathait qu'nou s'en va envlié l'surplus de nos couochons en Angliétêrre, les tomates sont à chinq louis l'chent, épis y'a chu moussieu-là du Sud d'l'Afrique tch'y veint d'accaté des bêtes de prix. J'éthais voulu être au show Mêcrédi, pour l'y d'mandé des nouvelles de man couôsin, l'Joe, tch'y s'en fut là y'a dans les chinquante ans et tch'y n'a jamais êcrit. Ch'tait un mauvais sujet, l'Joe, et la police tait souotre l'y quand y fichit san camp, mais y pouvait amendé, et sans doute chu moussieu dait l'avé rencontré tchiquebord. Est-che un grand pays, le Sud d'l'Afrique?"
"Ah, je n'sais pas trop, j'l'y dit, "mais bein seux tch'il est pûs grand que notre p'tit Jêrri. Quant au Joe, j'm'en r'souveins ocquo et j'n'ai autchune doute que y'a longtemps tch'il est souos les mérgots. Ach'teu, au sujet de tomates, Merrienne, ch'est tout bein bouon d'dithe tchi sont à chinq louis l'chent, mais as-tu considéthé que pour tchiques semaines le prix à peine payait n'est qu'un p'tit nombre tch'y font les hauts prix ach'teu. Quand ès couochons pour l'Angliétêrre, j'n'en crai pas grand-chose mé, d'chonna.
"Et pourtchi?" ou d'mandit.
"Parsque," j'l'y dit, à qu'menchi prèsque touos les fermiers en Angliétêrre sont dans l'commerce et, l'gouvernement est là pour les encouathagi. Y peuvent nouôrri des p'tits animaux à bouon marchi, et ch'est pûs que je n'pouvons faithe ichin. Non, je n'y vait pas grand prospect."
"Mais Ph'lip," ou dit, "y nos veint des gens de partout l'monde pour accaté nos bêtes, pourtchi pas nos couochons?"
"Ma pouôre femme," j'l'y dit, "vraiment tu pâsle comme une imbécile. Quand y veint tchitchun pour accaté une g'niche, un boeu ou une vaque, tchèsqu'est la preumié tchestchon tch'y d'mande?"
"Y veux savé combain que l'fermyi en d'mande," ou dit.
"Nouffé," j'l'y dit, "pas du tout. Y d'mande tout-d'suite de tch'y qu'la bête est faite, et jamais n'fait un marchi si l'pédigrie n'est pas à san goût. Mais nos kéttos n'en ont pas d'pédigrie. Nou n'pouôrrait pas, par exemplye, dithe au moussieu qu'chutte jeune truie-là tait une Designe, ou une Sybil, ou une Dreaming ou qu'ou tait d's'cendue du Golden Lad, et nou n'pouôrrait pas ajouôté que l'grand-pèthe avait print l'preumié prix au Show des Trais Pâraisses."
"Nan, ch'est vrai," ou s'accordit. "Eh bein, n'y'a qu'une chose à faithe. Ch'est d'avé un Herd Book pour les couochons, et lûs donné des noms comme nou fait ès bêtes. Une Belle of Portinfer ou une Ladybird of Creux Baillot vaudrait des sous. Seulement, y faudrait être r'gardant de n'mêle pas les pédégries des bêtes avec les autres. Mais, pâslant d'autrechose, Ph'lip, tu vit l'nouviaux Gouvérneux au show; tchèsque tu-en crai?"
"A m'n'idée," j'l'y dit, "un Gouvérneux tchy s'présente, avec sa dame à un show d'bêtes, si vite après s'n'arrivée n'peut pas être un mauvais corps. Je n'voudrais pas garanti tch'y s'sait à s'n'aise à jugi une forte clâsse de viaux d'un an ou de g'niches de deux ans, mais y pathaissait tout-à-fait intérêssi, et quand y veindront ichin, y faudra qu'tu lûs donne de tes mérveilles, pour lûs dêmontré chein tchi peut s'faithe à Saint-Ou quand une mèthe de famille s'y met."
"Ch'tait une bouonne idée que l'Sieur Michel eut là quand y d'mandit au Gouvérneux de v'nin au show," ou dit. Un raide bouon qu'mench'ment pour un moussieu tch'y s'en va être ôv nous pour tchiques année. Pour être populaithe, y n'a qu'à s'gardé du bouon bord des férmiers, comme san prédécesseur faisait. N'y'a rai d'autre tchi compte."
Et dans m'n'idée, Moussieu, la Merrienne pour une fais à raison!
Ph'lip
24/10/1953