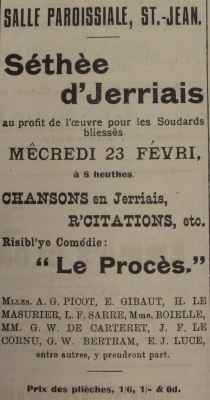 En 1916, la fanmil'ye Pain lus en fûdrent à eune séthée Jèrriaise à Saint Jean:
In 1916, the Pain family went to a Jèrriais entertainment in Saint John:
How they fared at the concert
Quand j'dit a nos gens qu'Elie nos invitait tous a la séthée d'St. Jean, y'eut d'la jouée. Lonôre m'sautit au co; Laïzé m'print a sa brachie; Samuel mé dounni sa bounne pipe en èstcheumme. Laïzé – eunne fais n'est pas couôtume – nos alloui tchiq' chose de caud; et quand j'proposi la santé a Elie, ch'fut Lonôre qu'entounni "For ees a jolli good feller!"

I' vintes nos cherchi dans un moto, si vos pliait! Laïzé aheucti un mio d'vant qu'd'engambé. "Ch'est ti seuthtablye, chès machines là!" qu'ou s'fit, en r'tchullant. "Si l'affaithe prennait à feu? Y'a dêja d'la feummée qui sort de d'souôs l'êsseu!" J'finnimes par la rasseuthé en lis disant qu'jammais n'y'a d'accident quand nou viage pour la Red Cross, et en l'heu, en s'mettant d'biais, en long, en travers, et l's uns sus l's'autres, nos v'la dans l'tchéthiot. Y'avait l'cacheux et sa femme sus le d'vant; tandi qu'en driéthe j'taimes bigbichis a n'pon r'counaître san propre bras d'avec le sien du vaîsin. Et pardessus tout cheunna, nou trouvi l'Caouin en c'min, a s'frotté l'bec contre eunne branque de lièru. Nou l'jutchi sus l'"wind-screen" viyant qu'il a d's yeux a vaie clié la niet; i' faisait des signaux aves ses ailles suivant qu'i' fallait gouvèrné a wog ou a bidéouais.

Tchi fliotchet d'monde dans la Salle! Pas eunne tchaise viedde, et du monde plien l'allée et l'portico. Pour accomdé tant qu'possiblye, j'm'assit sus les g'nors a Laïzé et j'prîns Lonôre sus m's èspaules. Ch'tait pas ch'qui y'a d'pus comfortablye, mais, pour eunne fais! Laïzé s'pliaignit d'temps en temps qu'ou n'sentait pas ses gambes, mais j'lis dit d'avé a enduthé, que ch'tait pour la Red Cross – a vrai dithe, oul a cliopinné hardi d'pis: j'lis frotte chounna ov des ortchies; sa pé r'quémanche a r'véné rouoge.

La Séthée fut un grand succés. Ch'la, ch'est d'la poésie. V'la tchi m'vint d'même, sans y pensé. Ch'est un don! et si tchiq'un voulait des versets pour met' sus un tombé – tchiq chose tout a fait hort du coummun – en m'en pâslant en temps, j'pouorais vos assemblié tchiq' chose a faithe fremi.
(à siéthe)