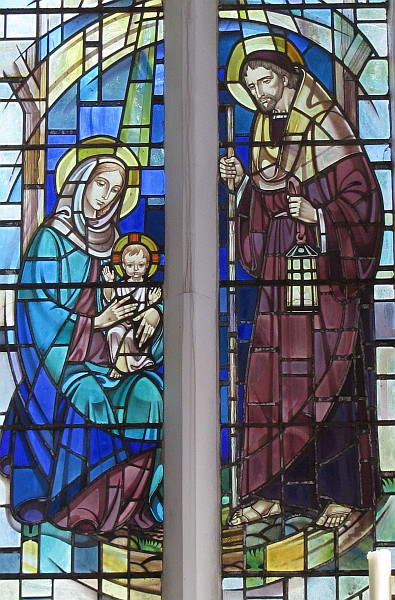 La Bouonne Nouvelle s'lon Matchi, 1:18-25
The Gospel according to Matthew , 1:18-25
Ch'est en tchi la naîssance dé Jésû l'Onguenné prînt pliaiche dé chutte manniéthe-chîn. Quand sa méthe Mathie avait 'té engagie à Joseph, mais d'vant il' eûssent démeuthé ensembl'ye, nou trouvit qu'ou 'tait pouor porter un êfant du Saint Esprit. San bouonhoumme Joseph, un houmme raîsonnabl'ye tchi n'voulait pon l'ahonter en publyi, s'en d'mentait d'la renvyer auve discrétion. Mais qu'il eûsse décidé d'même, un m'sagi du Seigneu lî géthit dans un rêve et lî dit, "Joseph fis Dâvi, n'ânionne pon dé t'mathier à Mathie, ch'est en tchi l'êfant conchu dans sa bielle est du Saint Esprit. Ou portétha un fis, et tu lî bâdra l'nom Jésû, ch'est en tchi i' saûv'tha l'peupl'ye dé lus péchés."

Tout chennechîn prînt pliaiche à seule fîn d'ag'ver chein tch'avait 'té dit par l'Seigneu par l'prophète:

"Êvchîn, la vièrge conchétha et portétha un fis,
et nou lî bâdra l'nom Emmanuel,"

v'là tchi veurt dithe, "Dgieu est acanté nous."

Quand Joseph s'rêvilyit, i' fit d'même coumme lé m'sagi du Seigneu li'avait c'mandé: i' la mathyit, mais i' n'la griyit pon d'vant qu'ou portîsse un fis, et i' lî baillit l'nom Jésû.