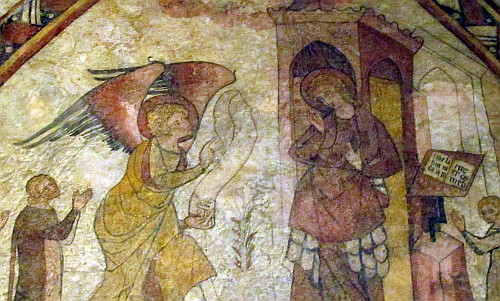 Aniet ch'est l'Annonchiâtion: Né v'chîn du texte d'la Bouonne Nouvelle s'lon Luc:
Today is the Annunciation. Here's text from the Gospel according to Luke:
Siêx mais pus tard, lé m'sagi Gabrié fut envyé par l'Bouôn Dgieu à eune ville en Galilée tch'avait nom Nazareth, siez eune vièrge tchi 'tait engagie à un houmme tch'avait nom Joseph, du lîngnage dé Dâvi. La vièrge avait nom Mathie. Ch'est en tchi i' vînt à lyi et l'saluit, "Bouônjour à té tch'es préféthée! Lé Seigneu est acanté té."

Ou fut toute morfondue par ses patholes et reunminnit pouor tchi sorte dé m'sage qué ch'tait. Lé m'sagi lî dit, "N'sai pon êffritée, Mathie, ch'est en tchi tu'as 'té préféthée par l'Bouôn Dgieu. Et d'même tu conchéthas dans ta bielle et portéthas naîssance à un fis, et tu lî bâdras l'nom Jésû. I' s'sa haut jutchi et s'sa app'lé l'Fis du Tout Piêssant, et l'Seigneu Dgieu lî bâdra l'trône dé s'n anchêtre Dâvi. I' règn'na sus la maîson d'Jâcob à tout janmais, et n'y'étha pon d'fîn à san rouoyaume."

Mathie dit au m'sagi, "Coumme tchi qué chenna s'adonn'na, viyant qué j'sis eune vièrge?"

Lé m'sagi lî dit, "Lé Saint Esprit d'val'la sus té, et l'pouver du Tout Piêssant t'abrietha, épis l'mousse tch'est pouor êt' né s'sa saint; nou l'appèl'la l'Fis du Bouôn Dgieu. Et achteu, ta pathente Lîzabé dans sa vieillèche a conchu un fis, lyi étout, et chenna d'pis siêx mais pouor la cheinne qu'nou criait n'portéthait d'aut'. Vai-tu rein n'es'sa împôssibl'ye auve lé Bouôn Dgieu."

Épis Mathie dit, "M'êv'chîn, la sèrvante du Seigneu; piêsse-t-i' s'adonner auve mé s'lon ta pathole." Épis lé m'sagi la tchittit.