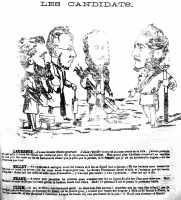 The Senatorial by-election campaign is underway, so candidates and voters might find some Jèrriais political vocabulary useful:
Lé vocabulaithe d'la politique en Jèrriais
There's no shortage of, mostly satirical, Jèrriais poetry about elections. Here's a snippet in modernised spelling from Les Pliaintes d'un Candidat:
Tch'est qui tcheint les êlecteurs?
I' sont îndomptabl'yes ;
Maûgré toutes mes douocheurs,
I' sont întraitabl'yes.
J'ai ieu bieau lus prêter j'vaux,
Tchéthiot et tchéthue ;
Et lus faithe des bieaux-bieaux,
Ch'est peine pèrdue.