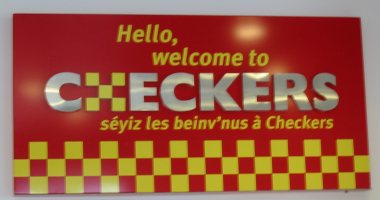 In the news today, Waitrose are buying some Jersey and Guernsey supermarkets. The Checkers supermarkets can trace their corporate origin back to the family-run grocers' of the Le Riche family founded in Saint Helier in the early C19th.
Naturally enough, these commercial enterprises have left a record in Jèrriais literature. Georgie recalls the original shop and how the Le Riches expanded in this extract from a longer poem from 1904.
I' m'sembl'ye que j'vai acouo Moussieu et Madanme Le Riche
Et lus deux jannes gens tch'étaient étout dans la Boutique,
I' vos r'chévaient si bein ch'tait un pliaîsi d'y'aller
Il' avaient tréjous un souôri du matîn au sé.
Achteu tout est changi: ch'est eune grande compangnie
Mais coumme lé temps pâssé; nou-s'y'est tréjous bein sèrvis,
Il' ont des oeux, du beurre, du fronmage, du jambon;
Des oranges, des nouaix, des chucrîns, des poummes, du limon;

Du raisîn, d'la corînte, des êpices dé toutes sortes,
Pouor lé podîn de Noué; y'en faut dé bein des sortes,
Il' ont étout eune boutique en Dgèrnésy
Remplyie dé friandises, et à bein bouan marchi.

I' n'faut pas oublier le couongnac, les litcheurs et l'bouan vîn,
Du bouan cidre en boutelles, dé la biéthe et du champangne; Enfîn!!
Mais pensez tchille honneu; il' ont d's ordres du Rouai
Des vîns et des litcheurs, il ont ioù à y'env'yer.