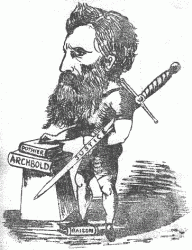 Messire Robert Pipon Marett mouothit aniet, l'dgix d'Novembre, en 1884. Laelius 'tait ieune des pus grandes înfluences sus la littéthatuthe Jèrriaise au dgiêx-neuvième siècl'ye – et sans l'avanchement d'san mêtchi politique il éthait ag'vé acouo pus.
Sir Robert Pipon Marett died on this day in 1884. He was elected Connétable of Saint Helier, and later served as Solicitor-General, Attorney-General and Bailiff. He wrote Jèrriais poetry under the pseudonym of Laelius.
François-Victor Hugo, fis d'Victor Hugo, dans La Normandie Inconnue (1857) fît pâsser eune poésie d'Laelius pouor eune vielle chanson:
Ce n'était ni de l'anglais, ni du français qu'elle chantait; c'était une langue bizarre qui m'étonnait et qui pourtant n'était pas absolument nouvelle pour moi. Il y avait des mots que je comprenais, d'autres que je ne comprenais pas. Par instants, la phrase venait à moi; par instants, elle m'échappait. Ce que j'entendais était pour moi tantôt clair comme le jour, tantôt obscur comme la nuit. Cette obscurité, c'était l'ombre du moyen âge qui la faisait en passant.

La vieille femme chantait une chanson jersiaise, dont voici les couplets :

Vos vlà, vaisine, à vos prom'ner,
Ch'est miracl' que d'vos rencontrer!
Nou n'vos trouv' jamais par les rues,
Comme est qu'i' s'fait qu'nou v'os vait pus?
— Ah ! ch'est qu'dépis que ma Nancy
Est si pouôr'ment, j'nai peu sorti:
Quand ou m'aidait, ch'toit ben ocquo;
Mais a ch'teu, tout me cheait sus l'co!
I' faut qu'ou m'ait enchorchélé,
Car ben ou pas, i n'y a pon d'soin,
Tout chen qu'ou dit, tout chen qu'ou fait,
Me contente, et me paraît ben.
L'aut' jour ou m'pili drait sus l'pi',
Eh ben! j'en étais tout réjoui!
Ouij'en sis là,
Qu'ou m' ravit même' quand ou m'fait ma.
La Bouonne Femme et ses Cotillons
Mais à la fin ou fut saisie
D'une longue et sérieus' maladie.
Oulle avait ben bouon appétit,
Et mangeait d'tout espèc' de qui;
Mais l'pière était chonchin,
Que dans son corps tout entrait ben,
Mais i' n' en sortait presque ren.
Plusieurs touchis d'sa condition,
Ly dir'nt qu'ou f'rait mus d'y r'medji
Tandis qu'il était temps, mais non,
Nouz avait biau la consillyi,
Ou répondait: "Je n'le f'rai pon!
Que d'viendrait ma constitution!"
Pâlez-li d'amitchié!
I'ritha
Et ditha:
"Ah oui-jà ch'est d'qui bé!
Eh! qu'un houmm' baill' de bouons fricots;
A pui veurt emprunter qu'i' dounne;
Qu'i' n'demand' jamais à personne,
Il aitha d's amins par mouochiaux!
Mais que san sort
Revith' de bord,
Et j'ai l'idée, si les comptait,
Qu'i' s'arrêt'tait au premier daigt!