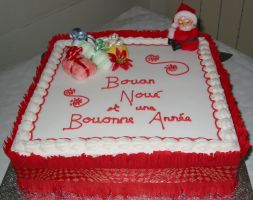 A bit of research in the Jersey Library threw up this Christmas-related snippet:
Married for sixty years
…Mrs. Huelin's treasured portrait is one of her father and mother, her sister, the late Mrs. Ada Le Maistre, mother of Mr. Frank Le Maistre, of Jersey Norman-French Dictionary fame, and her brother.

Reminiscing, Mrs. Huelin tells of her girlhood days when, at Christmas, groups of the poorer children of the parish would go from house to house shouting "Mon Noú, mon Noú*, s'il vous plaît," and would be given food and money…

Jersey Weekly Post, 8/1/1970
*This improbable form is presumably a typo for Noué.
Quand j'tais mousse ès Landes à St Ouën, ch'tait acouo la couôteunme d'aller crier Noué par les c'mîns, chantant "Noué! Noué! – man Noué, man Noué, s'i' vous pliaît!" Mais Papa et Maman né mé pèrmettaient pon dé l'faithe mé-même car i' m'disaient qué ché n'tait pon la chose dé tcheûter, et tch'i' fallait s'contenter dé chein qué Papa Noué s'en aller mett' dans la cauche pendue à côté d'l'âtre et s'garder siez-sé à l'exception, sans doute, des touos pauvres.