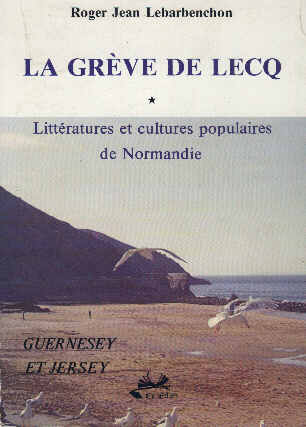 One of the consequences of a literary culture that values self-effacement is that sometimes the biographical details of authors can be overlooked or even lost. Many of our well-regarded writers have hidden behind noms de plume for one reason or another, but this has helped render them more anonymous to a later readership. Part of the process of celebrating our rich literary heritage has been to bring the personalities of Jèrriais writers out of the shadows, and, as with so much, the digital revolution is transforming our knowledge of the past.

For a number of years, Roger-Jean Lebarbenchon's "La Grève de Lecq" has been the most accessible dead-tree source of information on Jèrriais literature and littérateurs. For a similar number of years, this same book has been the target of dissatisfaction from some quarters due to its over-reliance on secondary sources and evident errors detracting from its otherwise valuable overview and contextualisation.
In the case of John Lock, who wrote under the pseudonym Ch'la S'Peut, the confident statement in "La Grève de Lecq" of a birthdate of 1831 has been taken as an authority. Since John Lock lived in London (hence another of his pseudonyms "Londronnais"), access to his état-civil has been problematic. But behold the wonders of digital archives! Thanks to recent research in census records available online, it can now be confirmed that John Lock was in fact born in Jersey in 1842 and died in London in 1926. This places him later than had hitherto been believed and sheds new light on his earlier published works which now appear more youthful productions than they had hitherto seemed (and conversely, this provides an explanation of his energetic participation in the activities of the Jersey Society in London in the early C20th).
Further researches have also turned up dates for the elusive Esther Le Hardy and have confirmed a birth year for Alfred Messervy.
The study of Jèrriais literature advances. Hèque la littéthatuthe Jèrriaise!