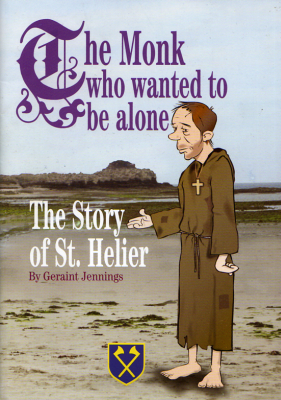 Aniet ch'est la Saint Hélyi.
Today is Saint Helier Day.
Channel Television rapporte:
Honouring an island's Saint (auve du Jèrriais dans lé livre The Monk who wanted to be alone)
Elégie: Anniversarium millesimum Sancti Helerii a Nativitate Christi
Ah nouot bain chier Patron, tu d'vins dans ten Empire,
Victime des forbans,
Dans ten antique austet tu souffris le martyre,
Angniet iyia mille ans!
Je vains ichin exprès faire un pélerinage,
Sus tan rocquir sacrai!
Nou z-y respire en paix dans chu doux Hermitage,
Que j't'avons consacrai!
I n'faut pon disputer des gouts;
"A pllie et douleur y-a un terme";
Chacun a quiq' sujet de lerme;
Y-a du drap au marchi pour tous.
Pour mettre fin à sa souffrance,
Dans sa charitè, le bouan Gui
Envyit des pirates par chance
Rôder à l'entou de Jerri:
A l'hermitage,
Ah! sans merci,
Comme un sauvage
I fut occi.