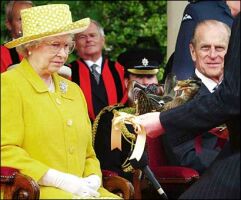 Ch'est l'annivèrsaithe dé l'accession aniet: y'a souaixante ans la Reine not' Duc avînt au trône. Dgieu sauve la Reine!
It's the anniversary of the accession today. Sixty years ago the Queen our Duke acceded to the throne.
Les ouaîsieaux lé disent, et l's annimaux,
Les tchians tchi ouassent, les cats tchi miaûnent,
Les mauves tchi piaillent, les souothis et les j'vaux.
I' disent: né v'là la Reine en jaune.

Un vièr vait-goutte éthait peu l'èrmèrtchi,
Ou même eune taupe, ou un j'va bône.
Faut-i' des longues-veues ou vèrres tchi
F'thaient appréchi la Reine en jaune?

Nânnîn. Oulle est bein cliaithe – nou la vait là
Assise rouoyalement sus l'rouoge trône,
Entouôrrée d'vielles rouoges robes et neu nièrs fas.
J'la vai, ma fé, la Reine en jaune.

Même si les nattes d'av'nue sont d'sînfectantes,
Ou n'peut pon vaie nos bêtes à cônes.
La fièvre aphteuse est tèrribl'ye et m'nichante.
Mais – j'vai la Reine, not' Duc, en jaune.

Rhythmiques, les photographeurs clyiquent, et tchiques
Journalistes happent lus microphones.
Deux maillards morts. Tchi présent excentrique!
La Reine? Lyi, ou souôrit en jaune.

Les journalistes, en explyitchant la scène,
Èrgardent lus quéméreurs et prônent:
"Honmage…. Seigneurs…. cérémonie ancienne….
Histouaithe…. Reine…. habilyie en jaune…."

J'vos r'dithai la nouvelle et j'l'èrdithai
Par e-mail, fax et téléphone.
J'dais l'dithe. I' faut raconter toute la jouaie
Car, mé, j'ai veu la Reine en jaune.