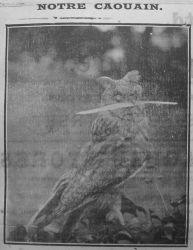 Né v'chîn eune histouaithe des restrictions d'la Grande Dgèrre, d'la plieunme du Caouain dans la Chronique de Jersey au mais d'Avri 1915:
Wartime restrictions in 1915, through the (barely-focused) eyes of GW de Carteret's Owl:
Malheutheusement pour mé, Marie Hibou est devenue diversement patriotique à ches dernyi, et l'aut'e jour, quand ou vi dans les gâzettes que le Rouai d'Angliéterre avait d'fendu l'usage d'auchune espèce de litcheu dans touos ses palais et ses êtablyissements, ou vint toute excitée et s'mint à criarder: "Vive le Rouai! Tchi noblye exemplye qui donne à san peuplye, et quant à mé, je s'sai la prumiéthe en Jêrri à l'suivre!"

Là-d'sus, ou s'en fut à la p'tite armouaithe ouais que j'garde deustrais bouteilles pour quand mes anmins vainnent me vaie, ou pour me fortifier quand je sis prins de mes faibliesses, et oulle enlevi tout.

Le sé quand je r'vins siez-nous, je m'aperchu bein qu'ou n'tait pon comme d'amor et j'en fis la r'merque.

– Tu pathaît toute ênervée, j'lis dis, as-tu ieu tchiquechose à t'bouleverser tandis que j'ai 'tai hors?

– Nennin, nennin, ou m'raîponnit, je n'ai pas 'tai bouleversée du tout, mais tu t'en vas bein vite dêcouvri que i' y-a ieu du bouleversement ichin tout d'même.

Je fus bein êtonné de l'entendre pâler d'même et je r'gardi attouo d'la mansarde, pensant p't-être que notre propriétaithe était v'nu nouos enlever not'e meublye, mais je m'aperchu tout suite qu'i' n'mantchait rain d'not'e petit butin. quand je me r'touanni du côté de Marie Hibou, ou s'mins à rithe à grands êcliats et j'eu grand peux, mé, car je m'imagini qu'ou s'en r'allait aver iune de ses bordées de steriques.

– Tch'est qu'tu-as, don, ma chiéthe êfant? que j'lis dis, tâches de t'contrôler pour une minute, je m'en vaie te donner tout d'suite deux p'tits d'gouts d'ieau d'vie!

Là-d'sus ou fit un brèt et vint tout-à-fait hors de lyi-même.

Je voli à l'armouaithe pour cherchi chein qu'i fallait pour li-arroser l'gôsi, mais quand je l'ouvri ch'tait, comme Mother Hubbard, pour la trouver absolument viède.

– Hallô, je dis, i' y-a ieu du quiergissement par ichin, tu-as qu'menchi tan spring-cleaning de bouanneheuthe ch't-année, ma vieille! Où-est qu'sont toutes mes boutelles?

– Eprouves à d'viner, qu'ou m'dit.

– Ah ça, j'lis raîponnit, ch'n'est pas tout chu niollin-là, où-est qu'tu-as muchi man stuff?

– Oh! je n'l'ai pas muchi du tout, mais ch'la n'empêche pas qu'il est là où-est que jamais tu n'le r'trouvethas, et je crai bein qu'il est un mio mêlé avec de l'ieau salée acheteu. Pour te dithe la véthit, tout est hors avau l'drain, car j'ai viédgi toute chute pouaison-là dans l'grating!

– Hein! Tch'est qu'???

Les patholes me mantchirent. Je m'senti v'nin tout failli, et par suite d'une longue habitude, je m'rappréchi de l'armouaithe.

Mais ch'tait inutile, tout avait dispathu, jusqu'à la p'tite bouteille dans tchi que j'gardions des prunelles souos du djinne, en cas d'besoin. Ou pouvez craithe que je m'mins à faithe du tintamarre et je m'nichi Marie Hibou qu'ou s'n allait en attraper si ch'est qu'ou ne r'mettait pas tout comme il 'tait.

Mais ou fit que de m'rithe au nez et m'dit que l'Rouai était d'san bord, et qu'il avait fait la même chose siez-li, qu'oulle 'tait bein dêterminée qu'i' n'y aithait pas d'litcheu dans la maison et que j'pouvais aller m'faithe quatorze.
(à siéthe)