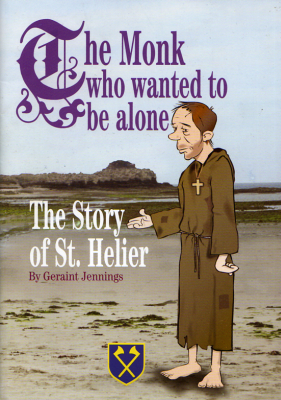 Un livret bilîngue (en Angliais et Jèrriais) tchi raconte eune vèrsion d'la vie du Saint Patron, Hélyi.
A version of the life of our patron Saint Helier in a short bilingual book in English and Jèrriais.
Annual Saint Helier Pilgrimage: assemble Sunday 18th July at 3pm at the Town Church.
From the Town Crier July 2010:
In 2009, however, local author and historian Geraint Jennings took everything known about Saint Helier to write the booklet 'The Monk who Wanted to be Alone.' Specially created to appeal to children, this local publication sets out the story of the wandering monk (…)

Children attending the Pilgrimage will receive a free copy of Geraint's book, while there are plans to distribute to St Helier's primary schools in due course. Copies are also available from the Jersey Museum, Elizabeth Castle and from the Town Hall priced at £2.50.