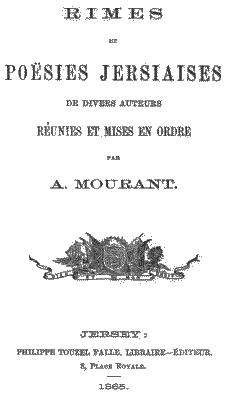 Rimes et Poësies Jersiaises, the 1865 anthology of Jèrriais poetry, is accessible online via Google Books or Wikimedia Commons:
Probably the first book in Jèrriais (although not the first publication by far), the anthology gathered previously published material together and provided brief notes on the authors.
As an early attempt at literary evaluation of writing in Jèrriais, it is invaluable, but obviously Abraham Mourant's 19th century value judgments would not necessarily be ours today. Still it's the first call for anyone looking at the development of Jèrriais literature, and wider availability online should aid the study of Jersey's vernacular writing.